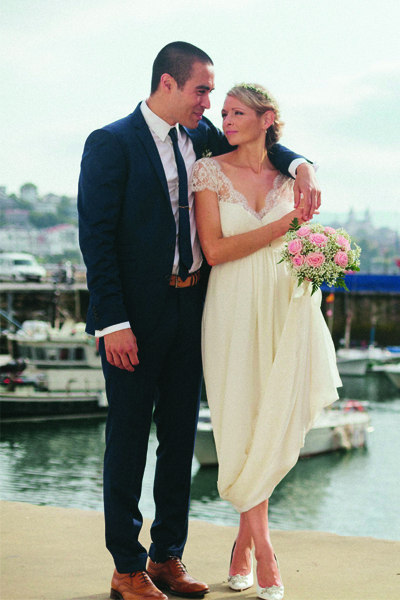 Clodagh&Ted
Bride&Groom
We decided to have a short engagement so a lot of our planning was done on the fly. We both loved San Sebastian and had visited on numerous occasion. Its an incredible city with amazing food, fantastic beaches and we were really excited to bring our guests there to help us celebrate.
Despite the fact that San Sebastián is an amazing town for a wedding, actually planning a wedding there (especially from abroad and in 6 months....) is much more complicated. When we got in touch with Leire she immediately got to work, not only helping to realize our image for what we wanted, but also making little suggestions and showing us things we wouldn't have known about otherwise. She is incredibly efficient and was alway available to reply to any little question or doubt we had. She did a wonderful job with the decorations and was available throughout the wedding day making sure everything went smoothly.
In the end she not only made sure everything we wanted happened when and where is was supposed to she really helped enrich the look and feel of the day.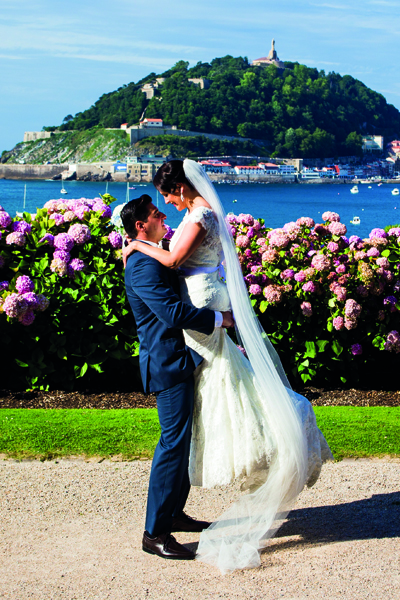 Crystal&Michael
Bride/Groom
With the internet, anything is attainable nowadays and stumbling upon Leire's webpage was the best thing that happened to us in September 2013. After countless months of "trying" to plan a destination wedding and getting nowhere, finding Leire was a Godsent. From the very beginning, Leire was warm, sweet, knowledgable and instantly made us feel that we could entrust her with our wedding and all the little details. Due to us living in California and with a 9 hour difference between us, Leire was always prompt with the return of emails, available to us whenever we needed to Skype and had a wide array of contacts and vendors to choose from when making all of our decisions. Her knowledge and expertise is beyond words. We never once had any doubts in the planning of our wedding and it's all because of Leire. She provided a comfort for us that we needed because we were so far away.
Leire not only planned our wedding day but also provided some excellent choices for a "Welcome Dinner" we hosted for all of our guests the night prior to the wedding. She communicated with the restaurant, sent us menus and pictures to better help make our choice, while also giving us her personal recommendations. Our "Welcome Dinner" was a huge success for all of our guests and is something I know we will never forget.
On the actual wedding day, Leire was very professional and helped keep me (the bride) in one piece. Everything went smoothly, the decorations were exactly as I had asked, the food was superb, the church was amazing and our venue for our reception was a dream come dream. Leire did more than what we expected and we know that without her, our fond and precious memories wouldn't be the same. I highly recommend Leire's services and cannot say enough nice things about her, her work and her contacts.
Thank you so much Leire for the wedding of our dreams and we cannot wait to visit San Sebastian and you again! You are amazing and truly gifted at what you do!
Blessings,
Michael and Crystal Keeling
June 30, 2014
Myra & Jan Paolo
Novios
Paolo and I decided that a destination wedding was the best fit for us and for our family and friends. We were looking at various cities across the world, but from our research, we knew San Sebastian offered exactly what we wanted: excellent food, a smaller relaxed comfortable setting and beautiful beaches. Our busy schedules did not permit us to visit
San Sebastian until the very week of our wedding. T
hroughout our stay, San Sebastian began to exceed our expectations, and this was through the help of Leire and 20eventos.
As the bride and groom, we were nervous at the thought of planning a wedding in a destination we have never visited and also sharing that risk with our family and friends.
It was important for us to work with a local presence. I came across 20eventos and fell in love with Leire and her work. Leire has a fun personality and together with her hard work ethic and local knowledge of San Sebastian she provides confidence and removes any anxiety that are commonly tied with weddings and travel. After our first conversation with Leire online, we had full trust that she would make our wedding a success - and she did! Leire takes each wedding very seriously and will make sure not only the clients are comfortable, but their family and friends as well. That is important and a huge plus. We will forever be grateful for all of 20eventos' support and guidance.
Leire, you truly worked your magic up until the end of our wedding celebration! Paolo and I, and the rest of our family and friends had an incredible time in San Sebastian. It was such a memorable time for all of us, and we are so thankful to have had the opportunity to work with someone so passionate about weddings. Not only did we have an amazing wedding in San Sebastian, but we also gained a wonderful friend from abroad! Please continue to stay in touch with us, and thank you so very much to you and Ana!! "Vale!"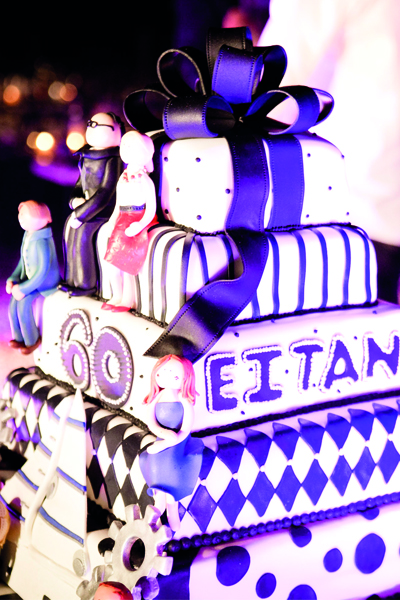 Osnat Eldar
Signature Events Director
On July 2011 we organized a 60birthday chain of events party in the Basque land. Miss Leire Ibañez was our contact person for the artistic program. She has been a real asset, being familiar with the optional performances, suggestion of alternatives and handled the shows in a very professional way. Moreover she served as part of the production crew of the main event, and performed professional skills of the highest level, working in 3 languages (English, Spanish and Basque!). Make sure you give her all your wishes and set assure she will know how to create for you a tailor made event. I myself am waiting for the next opportunity to work with her in the near future.
Each wedding we have designed has left an indelible mark
on our hearts and on that of our couples