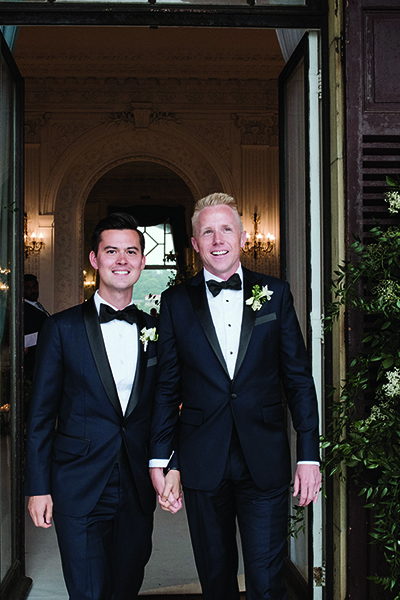 Zach & Chris | a couple from Washington
Hiring Leire and her team at 20 Eventos was quite simply the best decision we made in planning our wedding, From start to finish, she brought professionalism, vision and the ability to follow through and execute to every detail of our event. She showed thoughtfulness. She was attentive. And she was truly the lynch pin in bringing what was otherwise a vague event concept to life.
We met Leire while researching planners through Google searches. While there were a few options we considered, Leire set herself apart through her enthusiasm and responsiveness. Within a day of our initial outreach, she set us up for a Skype call, during which we talked through all of the key pieces of what we hoped our wedding would be. She asked smart questions and followed up with perfect recommendations that made it clear that she was the right person we could trust from across an ocean. 
From that initial conversation through the wedding day, Leire brought that same level of commitment, excellent judgement and design taste. In short, the wedding wouldn't have been the same without her. She was integral strategic partner, and we would hire her again in a heartbeat. 

Zach and Chris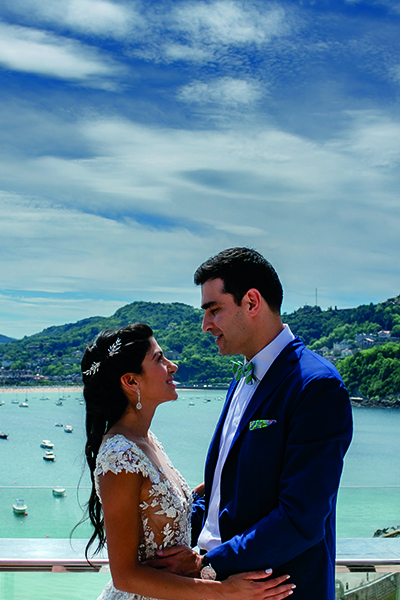 Ida & Martin | a couple from N.Y
We planned our destination wedding in San Sebastian, Spain on a fairly short notice. The first step was to pick an experienced wedding planner and everybody we spoke to (restaurants, different wedding venues, the flower guy etc.) referred us to Leire.From start to finish, Leire worked closely with us to helps us find a venue, manage all the vendors and guided us through an accelerated process of the wedding preparation.She has a wide and highly qualified network of individuals she works with (e.g. our photographers, which she recommended were great) and acted as our local ears and eyes, video-conferencing us in where needed and helping us make good decisions along the way.Ultimately, we had a fantastic wedding and us & our guests had a great time. We are grateful to Leire for her relentless energy and continuous support that she provided.
Ida & Martin, NY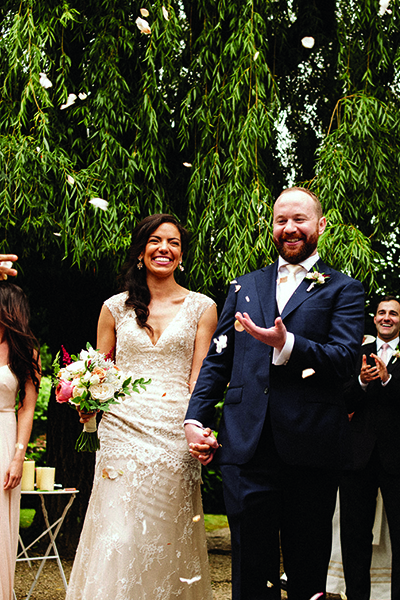 Lauren & Kyle | couple from San Francisco CA
After an unexpected injury, planning a destination wedding in San Sebastián seemed impossible to me, but with Leire's help, we were able to make all of our wedding dreams come true! Over countless emails and skype calls, she helped us develop a vision for the wedding and provided clear timelines and options. Her relationships with vendors were key, and every recommendation from the priest to the photographers to the florist was spot on. She and 20eventos not only coordinated our wedding and reception, but also helped us to organize a welcome pintxo night, rehearsal dinner, and farewell brunch. Every venue and vendor exceeded our expectations, and the trip was truly magical. Our guests thought so too--we keep receiving thank you notes and phone calls from them! It was wonderful to be able to relax completely on our wedding day knowing that all the tasks and logistics were in Leire's expert hands. She is hard-working and has a can-do spirit, and we are very grateful for her guidance throughout the whole process.

Lauren and Kyle, San Francisco CA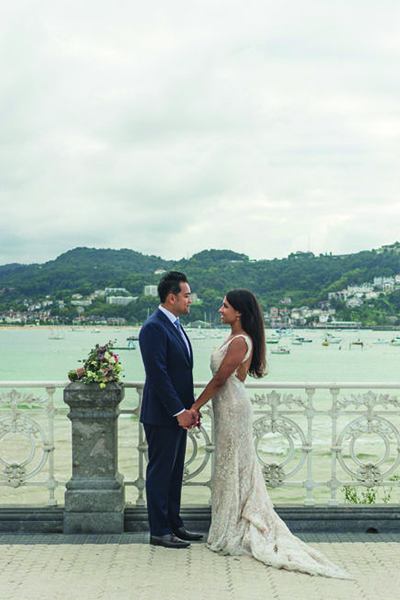 Rebecca & Francis | couple from San Francisco CA
Hiring Leire as a day-of coordinator was absolutely one of the best decisions we made for our wedding in San Sebastian with 90 guests.
Thank you for EVERYTHING you did for our wedding! Everyone had the absolute best time because of Leire. But what's really important is that Franics and I had the best day of our lives (no joke!)! It was so full of magic, romance, excitement, love, fun, family, friends, great food, great drinks, and wonderful service... I could seriously go on, and on, and on. From our first video chat, I just knew it would be okay to put all our trust into Leire and her team. The ceremony was absolutely breathtaking. It was what we pictured for our outdoor wedding theme, and Leire nailed it. Thank you so much for understanding us so well. And then the reception... ohhhh, how I have never had so much fun in my life! It really was EVERYTHING we could have hoped for and the views! All of the vendors Leire helped us select to work with were phenomenal for our wedding day. The table centerpieces were GORGEOUS! You made the whole process so easy and I really didn't have much stress at all for the day. I am thankful for you, your talent, and your team.
Each wedding we have designed has left an indelible mark
on our hearts and on that of our couples