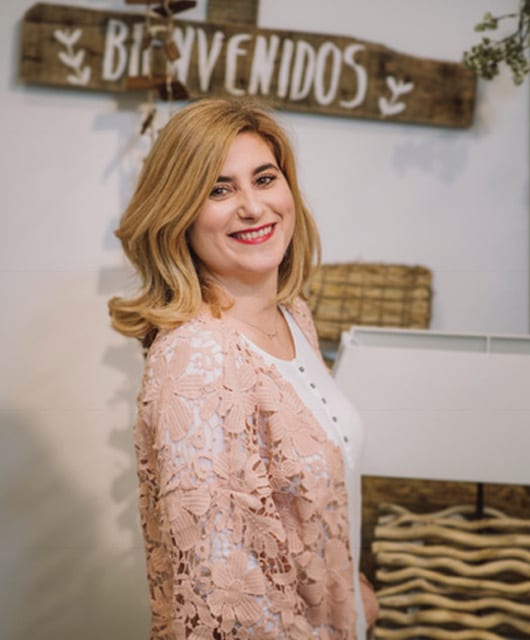 HELLO! I AM LEIRE,
FOUNDER AND CREATIVE DIRECTOR OF
20EVENTOS WEDDING PLANNERS.
Tell me when you are getting married
and what you are looking for
and I will submit you a proposal.
I design full of pure soul weddings
for couples and professionals from
the sector who want to create a
personal and sincere experience to
be shared, enjoyed and remembered
forever
It is said that our personal experiences mark a milestone in our personal life experiences. My own story can be summarized with 20eventos.
MY PROFESSIONAL ESSENCE
Touched

by details, I am so sensitive to all those little things that affect our senses, such as colours, scents, textures, rhythms and even silence moments. I work with all of them together as if they were ingredients of

a secret and magic spell

.

I

am an idealist enthusiast and I will leave no stone unturned if I believe in something and

I do believe in people

. That is why every single wedding I design match to their protagonists and guests in a different way.

I

am not scared of assuming challenges and leaving my confort zone. This it what has allowed me to grow and innovate along my life. I have reached goals others could not.

Being the first in doing many things has allowed me to be different and to streghten my job

.

I

am determined and tenacious and I always defeat problems and difficulties. And believe me, there might always be many. But I am so sure it is worth pursuing what I am doing that

I am always able to find solutions to every single challenge I approach

.

I

know working under preasure and handling those issues that might come up when teamworking. Within a Wedding there are many pieces that need to be fitted together and some disagreements that need to be solved too. This is my thing:

finding a common ground beyond the differencies

.
A LITTLE BIT ABOUT 20EVENTOS
I must admit things have gone well in my life. I mean, before founding 20eventos. I got a good job possition in an agency based in Madrid that used to acomplish every logical life expectations: regarding to me it was a good place to settle in and regarding to my family this job was synonymous of success.
But there was a restless part of me that was so sure this was not the way I had to live my life so I fought against myself until I realized I really wanted to do another thing.
Why?
I founded 20Eventos after realizing life was made of little and selected memories that we decide to record. And I chose to keep the beauty, inspiring, pleasant, creative and transforming ones.
I wanted to create those unforgetable moments that build up our personal history.
and I chose to focus myself in one of those magic moments of our lifes, the ones that change and expand our horizons and paths: A wedding!
That is the reason why I work with couples who want to be the real protagonists of their own fairytale and who want to live every single moment intensely knowing there is not any better way to do so.
It's been an absolute challenge to consolidate my work. At the beginning because it was a new thing and it was hard to make clients understand it. And as the time has gone by, being a wedding planner has turned into a trendy job that so many have wanted to try their luck.
In 20eventos we have organized more than 150 weddings for both national and international couples from Japan, USA, UK, Irland, Australia, China, France, Sweden or Lebanon.
____
+ABOUT ME
MY RESUME
> Graduated in Public Relationships and Publicity.
> MBA in Business Administration.
> More than 15 years of professional experience in Events Organization.
____
THIS IS WHAT OUR CLIENTS SAY
Leire and her team were absolutely wonderful to work with throughout the entire wedding planning process - we could not have done it without them, and we could not recommend 20eventos more highly! Leire provided recommendations for venues, vendors and decor that met exactly what we were looking for in terms of budget and ambiance. She was extremely responsive to all of our questions and requests throughout the planning process, and we appreciated her keeping us on track in terms of timing of when we needed to make specific selections or decisions. All of the vendors she recommended and who we worked with were incredible - from the photographers to the DJ to the restaurant - and went out of their way to make sure our day was perfect. And the day was perfect. It captured our spirit as a couple perfectly down to every detail, and it showcased the beautiful city of San Sebastian and the Basque culture for our guests, which was exactly what we had hoped for. Leire and team - thank you so much for making our dream wedding a reality!
Kelly & Nathaniel
Kelly and Nathaniel - Bride&Groom - Chicago
Leire made our D day super smooth , although it was a tough one to sync everybody: Flower, Gospel , Jazz band, Catering…. All separate. We were not 1 second worried during the day. We met very great suppliers like Pilar for the floral decoration, Jairom Black amazing band and people. Leire was persistent and understood our taste. We enjoyed our day, and most of all, we can literally say that without Leire no wedding as she found the priest when no priest wanted to celebrate our wedding as we are not from Guethary. So we just thank you again for everything. Leire is like Mary Poppins for wedding.
Laetitia y Matthieu - Novios - Suiza
From our first consultation, I knew Leire would be the right wedding coordinator for me and my husband.  My husband and I fell in love with San Sebastian while traveling a few years ago.  We didn't hesitate in thinking that it would be amazing to celebrate our wedding there.  We live in NY, so I visited San Sebastian to meet with Leire to see if it was possible to make this destination wedding we had in mind a reality.  We made a connection right away.  She appreciated the vision that we had for our wedding.  It wasn't always an easy process as I live in NYC planning a wedding in San Sebastian.  For that reason, Leire's knowledge was invaluable to us.  From finding the right location, vendors, etc., she worked very hard to make our dream come true.  We could never have had the wedding we hoped for without Leire.  It was a truly magical and unforgettable experience.  We were so pleased with everything.  Leire was a pivotal part of making our vision for our dream wedding come true.   I can never thank her or recommend her enough.
Liane y Travis - New York - Novios
Hiring Leire as a day-of coordinator was absolutely one of the best decisions we made for our wedding in San Sebastian with 90 guests.
Thank you for EVERYTHING you did for our wedding! Everyone had the absolute best time because of Leire. But what's really important is that Franics and I had the best day of our lives (no joke!)! It was so full of magic, romance, excitement, love, fun, family, friends, great food, great drinks, and wonderful service... I could seriously go on, and on, and on. From our first video chat, I just knew it would be okay to put all our trust into Leire and her team. The ceremony was absolutely breathtaking. It was what we pictured for our outdoor wedding theme, and Leire nailed it. Thank you so much for understanding us so well. And then the reception... ohhhh, how I have never had so much fun in my life! It really was EVERYTHING we could have hoped for and the views! All of the vendors Leire helped us select to work with were phenomenal for our wedding day. The table centerpieces were GORGEOUS! You made the whole process so easy and I really didn't have much stress at all for the day. I am thankful for you, your talent, and your team.
With Love, 
Rebecca + Francis
San Francisco, CA 
Rebecca and Francis- Bride&Groom- San Francisco (USA)
Leire is great. Her years of experience planning weddings in San Sebastián and the surrounding region were invaluable. She managed to deliver quality vendors throughout the entire planning process. Her structured approach and set of checklists also ensured nothing was forgotten. Last but not least, her planning on the day allowed both Lise and I to be stress free and enjoy our wedding day with family and friends. We highly recommend Leire and her team.
Damien & Lise
Lise and Damien- Bride&Groom - Oslo (Norway)
Dear Leire,
Nadim and I would like to thank you so much for making our idea of a special day come true.
Not only you were up to the task in implementing all the tiny details of our wedding, but most importantly you immediately understood the spirit we wanted this day to have.
Everything was perfect, from the vendors and specialists you recommended us with (they are true professionals with whom it was a pleasure to work) to the unique venue you found for our wedding (Machoenia is a small piece of paradise on earth).
Everything exceeded our expectations despite the enormous hurdles that were in your path since the beginning of our collaboration (4000 KM distance, several cultures to accommodate, the weather, etc…).
Everything went perfectly well, without a hitch, making this day memorable not only for us but for the 100 invitees that came from all four corners of the world.
Dear Leire, if we are to do our wedding again, we wouldn't change a thing! 🙂
Thank you again for making true a fabulous day that we could only imagine...
Nayla and Nadim.
Nadim&Nayla - Líbano - Bride&Groom