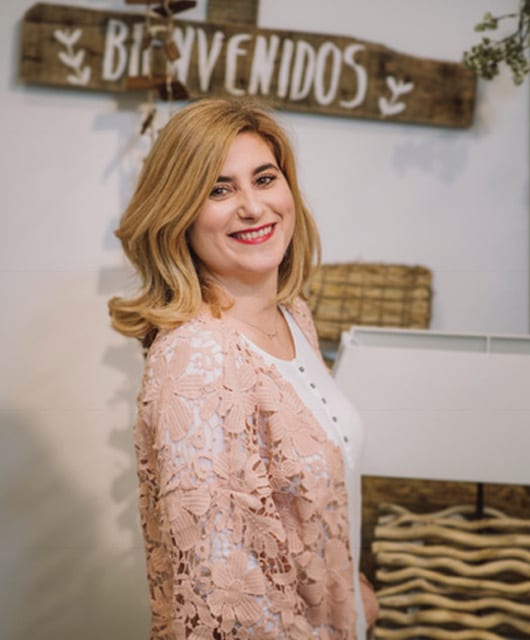 HELLO! I AM LEIRE,
FOUNDER AND CREATIVE DIRECTOR OF
20EVENTOS WEDDING PLANNERS.
Tell me when you are getting married
and what you are looking for
and I will submit you a proposal.
I design full of pure soul weddings
for couples and professionals from
the sector who want to create a
personal and sincere experience to
be shared, enjoyed and remembered
forever
It is said that our personal experiences mark a milestone in our personal life experiences. My own story can be summarized with 20eventos.
MY PROFESSIONAL ESSENCE
Touched

by details, I am so sensitive to all those little things that affect our senses, such as colours, scents, textures, rhythms and even silence moments. I work with all of them together as if they were ingredients of

a secret and magic spell

.

I

am an idealist enthusiast and I will leave no stone unturned if I believe in something and

I do believe in people

. That is why every single wedding I design match to their protagonists and guests in a different way.

I

am not scared of assuming challenges and leaving my confort zone. This it what has allowed me to grow and innovate along my life. I have reached goals others could not.

Being the first in doing many things has allowed me to be different and to streghten my job

.

I

am determined and tenacious and I always defeat problems and difficulties. And believe me, there might always be many. But I am so sure it is worth pursuing what I am doing that

I am always able to find solutions to every single challenge I approach

.

I

know working under preasure and handling those issues that might come up when teamworking. Within a Wedding there are many pieces that need to be fitted together and some disagreements that need to be solved too. This is my thing:

finding a common ground beyond the differencies

.
A LITTLE BIT ABOUT 20EVENTOS
I must admit things have gone well in my life. I mean, before founding 20eventos. I got a good job possition in an agency based in Madrid that used to acomplish every logical life expectations: regarding to me it was a good place to settle in and regarding to my family this job was synonymous of success.
But there was a restless part of me that was so sure this was not the way I had to live my life so I fought against myself until I realized I really wanted to do another thing.
Why?
I founded 20Eventos after realizing life was made of little and selected memories that we decide to record. And I chose to keep the beauty, inspiring, pleasant, creative and transforming ones.
I wanted to create those unforgetable moments that build up our personal history.
and I chose to focus myself in one of those magic moments of our lifes, the ones that change and expand our horizons and paths: A wedding!
That is the reason why I work with couples who want to be the real protagonists of their own fairytale and who want to live every single moment intensely knowing there is not any better way to do so.
It's been an absolute challenge to consolidate my work. At the beginning because it was a new thing and it was hard to make clients understand it. And as the time has gone by, being a wedding planner has turned into a trendy job that so many have wanted to try their luck.
In 20eventos we have organized more than 150 weddings for both national and international couples from Japan, USA, UK, Irland, Australia, China, France, Sweden or Lebanon.
____
+ABOUT ME
MY RESUME
> Graduated in Public Relationships and Publicity.
> MBA in Business Administration.
> More than 15 years of professional experience in Events Organization.
____
THIS IS WHAT OUR CLIENTS SAY
"Finding a wedding planner for a destination wedding is never easy.  Having never been to San Sebastian, we wanted someone who could make us comfortable knowing that we could contact them at any stage and rely on them for efficient and hassle-free execution.  A quick online search led us to Leire and 20eventos.  We knew we had found the one when she replied so quickly we hadn't had time to write the next email!  From there it was success after success as we passed her seemingly impossible tasks and she, along with her team, went above and beyond to get us the wedding we wanted.  Good relationships with the local vendors is absolutely key.  We can't thank her and her team enough for everything they did. Up to this day, our wedding guests can't stop raving about how beautiful the wedding was. San Sebastian and 20eventos was the perfect choice for our destination wedding."
Ernesto & Samantha(Philippines)
Organising a wedding abroad could have been an incredibly stressful experience. But ours wasn't - thanks to Leire's hard work and expertise. Throughout the process of planning our day she was consistently helpful, quick to respond and to offer advice. Once we had chosen our venue, she set up a team of brilliant suppliers who helped make our wedding truly amazing, and was on hand to make sure everything went without a hitch. We always felt she understood what was important to us about the day, and so we felt happy trusting her judgement and advice. We wouldn't hesitate to recommend her to anyone and will always be grateful to her for making our day so wonderful.Laura and Gary
Laura and Gary - Bride&Groom - England
"We cannot thank you enough for all the organisation and planning that went into our special day and all thanks to you Leire and your team. 'Our wedding in San Sebastian, 5 August 2018 was a dream that became reality with the help of Leire and her team at 20eventos. Our special day couldn't have been more beautiful than it was. From the moment I spoke to Leire from the other side of the world I knew that Leire and her team were going to help make our special day perfect'.Best wishes,Juliana and Jose(Australia)
Juliana and Jose-Bride&Groom- Australia
Hi Leire!
How are you? I'm sure you're incredibly busy right now.  I just wanted to say thank you so much for helping plan our wedding.  We had a blast and I'm so glad we chose San Sebastián for our setting.  It is a truly beautiful and special place. We are still receiving phone calls, emails, and letters from people saying how perfect everything turned out. We hope to be back for a visit sooner than later.
Thanks and take care!
Laura and Nauman - USA - Bride&Groom
From our first consultation, I knew Leire would be the right wedding coordinator for me and my husband.  My husband and I fell in love with San Sebastian while traveling a few years ago.  We didn't hesitate in thinking that it would be amazing to celebrate our wedding there.  We live in NY, so I visited San Sebastian to meet with Leire to see if it was possible to make this destination wedding we had in mind a reality.  We made a connection right away.  She appreciated the vision that we had for our wedding.  It wasn't always an easy process as I live in NYC planning a wedding in San Sebastian.  For that reason, Leire's knowledge was invaluable to us.  From finding the right location, vendors, etc., she worked very hard to make our dream come true.  We could never have had the wedding we hoped for without Leire.  It was a truly magical and unforgettable experience.  We were so pleased with everything.  Leire was a pivotal part of making our vision for our dream wedding come true.   I can never thank her or recommend her enough.
Liane y Travis - New York - Novios
"With its amazing food and beautiful old town and beaches, San Sebastián has always been one of our favourite cities. We had always wanted to share our love for the city with our friends and family, but being on holiday there and organising an international wedding are two completely different things. As we live in Tokyo and our guests were from all around the world, our wedding would not have been possible without Leire's local knowledge, wedding planning expertise, organisation and coordination. Despite needing to work around the timezones and manage multiple vendors and international shipments, Leire was extremely responsive and helped us navigate the entire wedding journey from beginning to end. She is incredibly efficient with great attention to detail and made sure that everything before, on the wedding day and afterwards went smoothly. So many of our guests have told us that our wedding was the best one they had ever attended and that they really enjoyed the entire day -- we were also able to enjoy the day because we knew that everything was being taken care of by Leire and her team. Thank you so much for helping to make our special day come true!"
Best wishes,
Rena & Andre
Rena & Andre - Japan - Bride and Groom